Different cities have different charms. It's just so amazing how you can enjoy the grace of the world from every part of the globe. Brisbane, one of Australia's major cities, a place full of bliss and excitement, is just among those havens where you can relish that! From the natural views you can witness to the terrific experiences you can gain, there's something to wow you in Brisbane! 
What's even more delightful is that you can travel in Brisbane with your whole family and spend a relaxing time while filling your minds and hearts with great memories. Having loads of fun in Brisbane is not hard because inside this colorful city alone, there are so many attractions you and your family can visit! 
When you are traveling in Brisbane with children, of course, you are looking for itineraries that not only adults can find pleasure in but also the little ones. Awesomely, there are several kid-friendly parks in Brisbane that's overflowing with fantastic fun! Check them out below before you book your flights to Brisbane, so you'll have more reasons to be oh-so-excited!
1 – Thornlands Community Park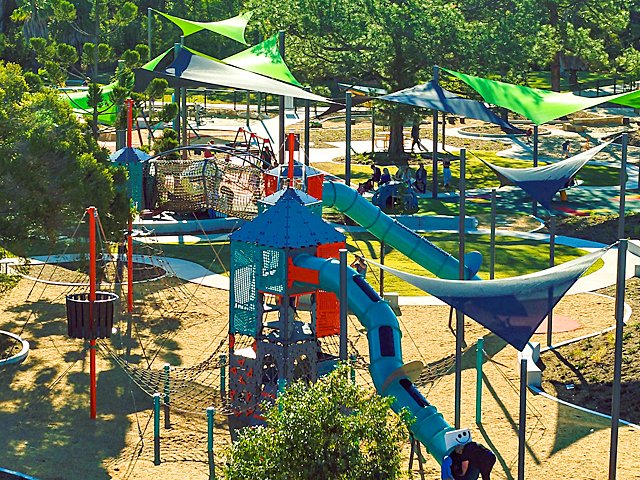 Photo credit: Outdoor Design Source
Sounds prickly but it's actually glitzy! Thornlands Community Park is a newly established and upgraded park and playground on Cleveland Redland Bay Road. Yes, it's super fresh as it opened in the middle of last year, 2020. 
What this park offers is sure to be very interesting and intriguing for the public because it's the newest fun pen in the area! Ensuring safety and security, fences are completely enclosing the adventure playground, enabling parents to rest assured that their kids playing nearby are fine and supervised.  
Note that kids-at-heart can totally have a spirited playtime here as well! You have to be ready for tons of merriment as you try the upgraded and high-quality features of the park. People can go up the vibrant climbing stations; there are tunnels and towers to encounter, plus slides suitable for little and big kiddos. 
Bringing the family close to the feel of nature, there's a stretch for nature play as well. There are stepping stones and tree bark fragments to sit on and play on. For water play also, kids can do activities where water must be transported from one place to another. There are water spouts, pipes and tubes. You can come up with water-related games to make the day even more festive!
Creativity is spilling all over Thornlands Community Park as the play sphere for tiny tots has the farm theme! So cute! There are huge tomatoes, watermelons, pumpkins and other fruits and veggies spread out to embellish the play space. The cafe and store with a small eating area are so adorable. There are educational materials and models for kids to be productive, to explore and to learn! Other amusing features include swings, sandpits and the double flying fox. There are digging tools that can be used by the kids on the sandpits too.
Spaces to have your barbecue parties and picnics are available for use. Drinking fountains are serviceable, as well as areas where you can change baby's clothes and diapers. Pets are prohibited to enter the playground, but they can run free outside that. 
2 – Karawatha Forest Park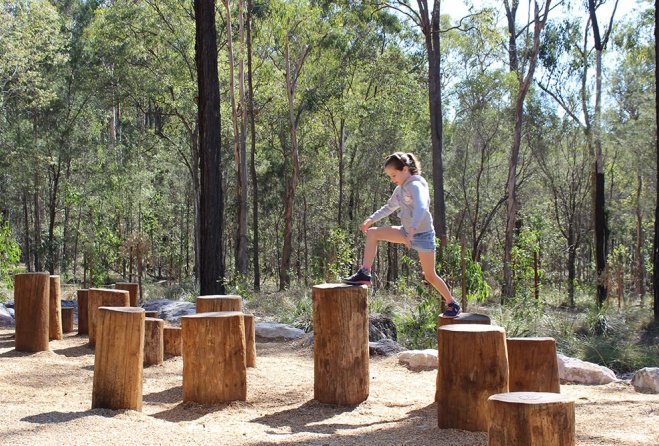 Photo credit: Must Do Brisbane
An assurance of both discovery and leisure is what Karawatha Forest Park gives. Its overwhelmingly vast spaces and cozy walking tracks introduce the park's winsomeness. 
Located at 149 Acacia Road, Karawatha Forest Park is home to magnificent wildlife. There are beyond a hundred bird species in it, and more animals that are mostly unfamiliar to people are nurtured as well. This park has been taken care of and preserved with the desire of valuing the harmony of the excellent natural environment.
The Discovery Centre is one of its major highlights that truly magnetizes countless local and international visitors. It is where you can make whoopee with interactive tours and experiences appropriate for all ages! Nature walks and nature plays are fun as they turn artistic imaginations on! You can enjoy free and cheap-rate activities here, and there are sculptures and exhibitions to unravel. And oh, entrance is free!
Its outdoor rock and water play area is cozy and cool! You can munch on your packed meals and snacks after playing, walking or hiking. Toilets are found in the area, so no worries for the calls of nature while you are enjoying Karawatha Forest Park.
3 – Bradbury Park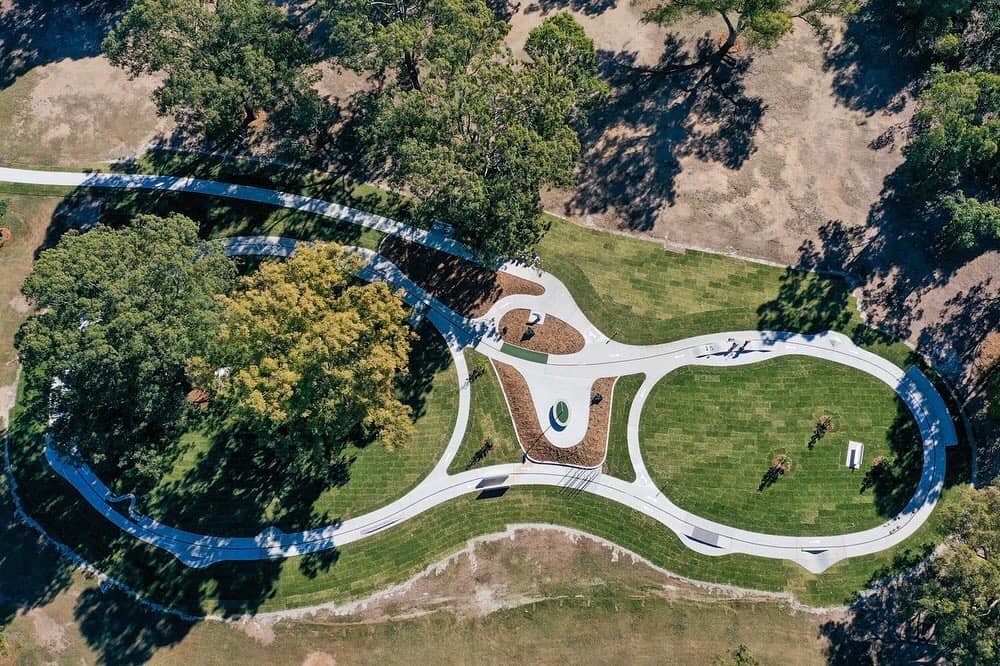 Photo credit: Naturform Facebook
The kiddiewinks will love it, and the adolescents and adults can't miss it! Bradbury Park in Kedron has been upgraded to cater a wider range of ages. The neighborhood is going crazy about it!
There is a custom-built looped scooter track that includes several obstacles, challenging the kiddos' mobility, speed and strategy. The Pyramid and The Boulders are just two of those recreational hurdles. A big segment of the scooter track is made for toddlers, while the rest is for older and more independent boys and girls. It's the city's first scooter track; nonetheless, bicycles and skateboards can use the track as well.
Green fields wreathe the scooter zone. There are benches in the park, however, you can bring your own picnic mats and chairs if you want to lie down or sit down on the grassy grounds anytime. The specific play area also has tree logs, stepping stones and more natural elements, inciting play and learning! You should see the Magic Forest! The Guardian Throne is where the youngsters can play king and queen roles. Do not forget your cameras to capture their darling skits.
Moreover, you can use the park's outdoor exercise equipment if you are not able to workout or if you just want to sweat off and stretch a little. A basketball court will be added to the park's next improvement! It's a yes for basketball lovers out there. Lastly, for the furry babies, there's a region where you can unleash them, so they don't simply run around with people and scooters. That's for the safety and comfort of all.
Bradbury Park is an ideal pick for families who are competitive and for those who want to be active, enthusiastic and youthful! 
_____________
BRISBANE PARKS
There are just 3 of the popular and wonderful kid-friendly parks located in Brisbane. Be sure to include them to your destinations list if you want to spend a really nice bonding day with the whole family! Play, learn and get together!
_____________
ABOUT THE AUTHOR:
Nicole Ann Pore is a writer, an events host and a voice over artist. She finds quality and well-researched writing as a worthwhile avenue to enlighten and delight others about things that matter. For her, it's restoring and fulfilling to the heart and a great way to clear the mind while loading it up with fresh learning. Film critiquing and filmmaking are among her interests too. Giving all the glory to God, Nicole graduated Cum Laude from De La Salle University Manila, Philippines with a Bachelor's Degree in Communication Arts.  To know more about cheap airfare or flights to Australia visit Link Airways https://www.linkairways.com/